You got a formal event to go to in the first thing in the morning or perhaps the afternoon, but woke up late from your sleep or daily power nap and want to curl your hair, but you're not sure how you're going to be able to finish it nicely with the limited span of time you have? Yeah, that could be every girl's biggest fear, but fear not! We're about to change that, because the 21st century has just made up a way to make sure you curl your hair easily, stress-free, and in just the span of five minutes. Crazy, right? The most viral video about it is from a channel called Kaushal Beauty and here's how it works.
Step 1. Prepare Your Materials.
For this specific 5-minute curl do, you're going to need the following:
Hair Spray
Hair Tie
Curler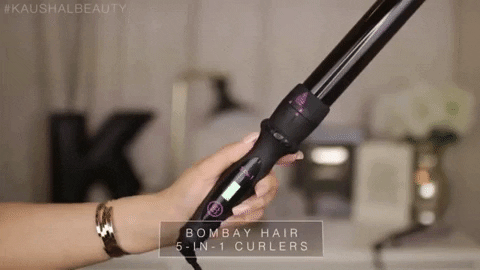 Bobby or Metal Hair Pins
Hair Oil (optional)
Step 2. Put Some Hair Spray All Over The Mid-Length And End Section of Your Hair.
Make sure you get the nicest hair spray in your house to spray your hair with. Don't think of skipping this step, because it is super essential. It'll let you easily "mold" your hair so you can get those perfect and flawless curls.
Step 3. Gather Up Your Hair And Tie It All Up In The Highest Ponytail You Can.
Do it as high as you can while making sure there aren't any "lumps or bumps". You're going to want to make your ponytail look smooth.
Step 4. Split That Gorgeous Ponytail Into Two And Prepare It For The Curling Process.
Now part your ponytail! Clip the one part of your ponytail so that it doesn't move or anything then take 1 inch of the section to wrap it all around the curler. Leave it there for fifteen to twenty seconds then take a bobby or metal pin to clip it with.
Step 5. Repeat The Steps With The Rest of Your Hair.
Tip: If you want thicker curls, wrap thicker sections of your hair around the curler and if you want small ones, just wrap thinner sections around it.
Step #6. Spray Your Hair Again With Hair Spray.
Make sure the spray gets all over your hair.
Step 7. Wait For One Minute.
You can chill and scroll on the net for a little while or do your typical make-up if you want.
Step 8. Take Off All The Pins.
Don't speed this part up. You'd want to make sure your curls are refined and perfect as they were, so relax and carefully take the pins off.
Step 9. Take Off Your Ponytail And Mold Your Hair.
Now that you can see those nice and bouncy curls, take your ponytail off so you could play around with the partings of your hair and fix it to its right place. You can also put hair oil to make it nice and shiny. It helps!
If you want to make sure that nice hair stays nice, you could put some hair spray on it again. It could help make it last long.
And that's it! If you want a full video representation for this tutorial, check out Kaushal Beauty's video, itself right below!
Go ahead and like the video, give a comment, and subscribe her channel! She posts some really good beauty videos, tricks, and hacks perfect for any girl like you!
If you also liked this text version of it, feel free to share it to your friends to spread the word! 'Till next time! Bye!